A350M-A06 Built-in speaker Desktop Conference Microphones System 1 President 20 Delegate Table Unit MiCWL
MICWL A350M-A06
Professional Table Digital Meeting Room Wired Conference Microphone Mic System
19" Rack Mountable Design Host
Desktop Gooseneck Microphone Built-in speaker (Used to extend the conference sound)
Brand New
(1 Host Support up to 60pcs table Mic, please contact us if you need more Delegate Unit Microphone.
add 1 power extension host can with 60 tabe microphone. Max. 1 host support to 250pcs table mic. )
Free Shiping by UPS, FexEx, DHL, TNT etc... express .
Package includes:
(1) 1x Host
(2) 21 Tabletop Gooseneck Microphone
( include 1 Chairman + 20 Delegate Desktop Microphone with 2m 8Pin cable.)
(3) AC-DC adapter
(4) Manual.
(5) 2x 10m 8Pin cable.
A350M Series Conference System Product Description:
Convenient, hand-held conference system A350M series, without a central processor. A350M host is the core of the entire system. The system can accommodate up to 60 speakers, and the external PA system can be used for voice amplification. It has microphone auto-off function (microphone open, no sound input for more than 40 seconds, auto close). 2 meters long 8-P262 DIN connection cable, there is an auxiliary audio signal output and recording output, easy to connect other devices.
System Features:
1. double-goose neck design can be noted in the direction of need, easy to install quickly. The indicator light on the gooseneck microphone indicates the status of the microphone.
2. unique audio processing circuit to improve the clarity of the entire system.
3. hand-held cable connection, the microphone connection is simplified, the entire system installation on the required works and costs can be reduced.
4. expansion and change the configuration is easy, it is with 3 way Output, each channel way can connect 20 microphone. a host total can connect 60 conference microphone unit,
5. Chairman unit can use the priority button (Priority) to control the speaking order, control the atmosphere of the meeting.
6. with recording output connection recorder, all the recordings can be completely sound preservation, but also external sound amplification equipment.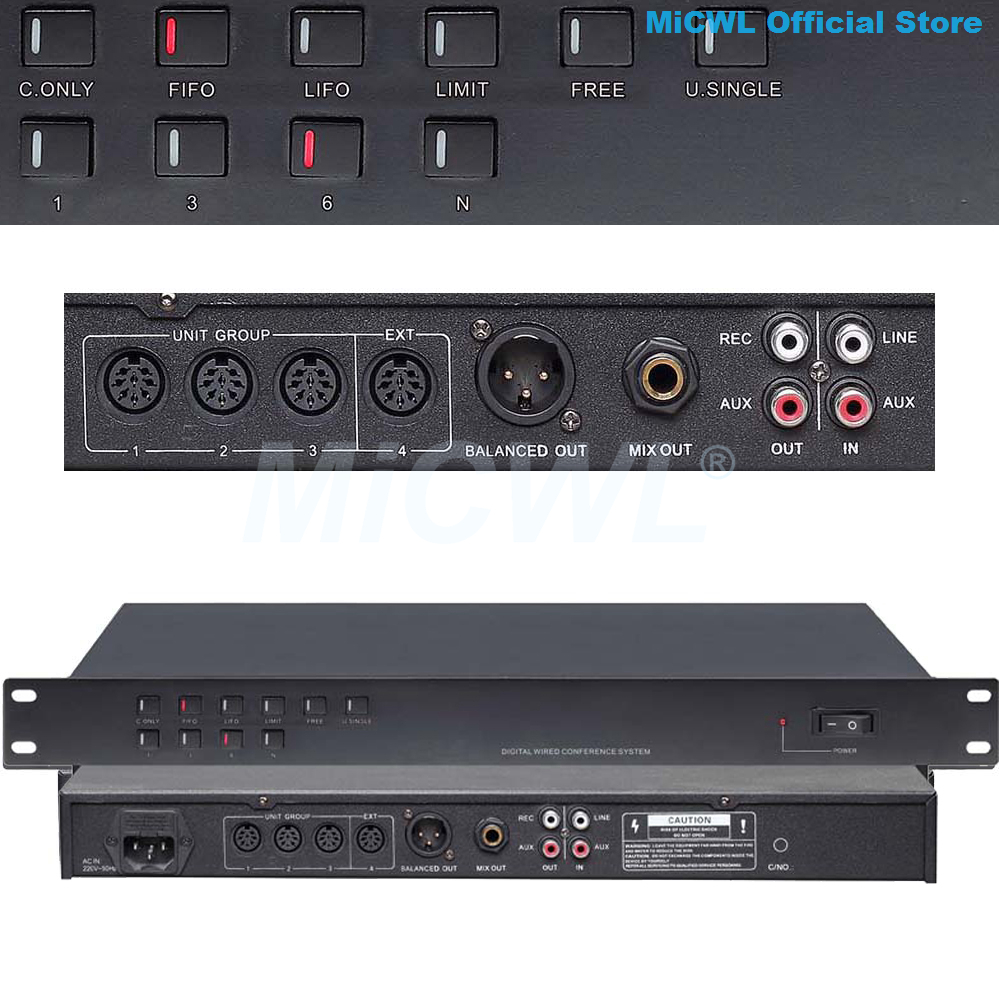 Technical Parameters:
Model: A350M host
Digital integrated circuit technology, low power consumption, high fidelity, very stable;
· Six speaking modes: Chairman-specific, first-in first-out, first-in, first-out, restricted speaking, open mode, overwhelming;
Four kinds of speakers can be selected, including: 1, 3, 6, N (optional). According to the speech mode is free to choose the number of speakers, and the design of intelligent identification of the number of functions;
* Start the self-test function, all the button lights flashing again, the connection status is not normal when the host beep;
· Intelligent power failure memory function, can remember the program running state; if the accident power, the power is restored to the last time set;
· With touch-button control panel, you can set the speech mode and the number of speakers;
· Equipped with audio balanced output, 6.3 output port, background audio input and output RCA interface, recorder interface;
· Each system host is recommended to connect up to 60 conference microphone units, with 4 series output, each channel can be up to 20, each plus a power extender can access more than 60 microphone unit
· Power supply: AC 100-250V ~ 50 / 60Hz
Rated voltage: 100Hz-12.5Hz
Output impedance: REC: 200Ω LINE: 200Ω
BALANCE: 300Ω
UNBALANCE: 400Ω
· Input impedance: LINE: 50KΩ PBIN: 50KΩ
· Signal to noise ratio: 100dB (1KHz THD1%)
· Chassis size: 480 × 44 × 220 mm
· Accessories: 10m 8Pin shielded wire
Model: Chairman unit and Delegate unit Table Mic:
High-fidelity single-directional condenser microphone, so that sound reduction is good, high definition, low noise, super pickup effect.
· Microphone red ring, can display the microphone working state; microphone tube screw-type air plug card dragon, more effective to prevent poor contact caused by blasting sound; 360-degree fully curved conference tube with hose design and flexible tube design, flexible Adjusted to suit different people.
The chairman unit has a unique priority button to close the delegate unit that is speaking, to control the order of the venue, and there is no restriction between the chairmen.
* Microphone switch button ON / OFF and priority button with high mute the touch switch, LED lights indicate the switch machine status.
Built-in high-fidelity speaker, can be used for conference loudspeakers and play conference background music.
Metal base, durable, beautiful appearance, fashion, do not fade, no deformation.
· Conference unit support hot-swappable function, comes with 2.1 m 8P cable; Handle connection mode, easy to install, flexible operation.
Type: Capacitive:
Directivity: single directivity
Frequency response: 30Hz-18KHz
Sensitivity (: -43 ± 2dB @ 1KHz
· Input voltage: DC 9V (host power supply)
· Minimum input impedance: 1KΩ
· Signal to noise ratio: 68dB (A)
· Output socket: 2.0M 8Pin terminal block
· Input wire: 2.0m 8Pin shielded wire
· Accessories: wind sponge