MICWL A351M 18 Desktop Gooseneck Digital Microphone Meeting Conference System Mic With 2 President 16 Delegates Mics
High-end A351M-A3513 Digital Discussing
Wired Conference Microphone System
A351M LED Telephone function host
A3513 LED Desktop Microphones Unit
19" Rack Mountable Design Host
Desktop Gooseneck Microphone Built-in speaker (Used to extend the conference sound)
(1 Host Support up to 60pcs table Mic, please contact us if you need more Delegate Unit Microphone.
add 1 power extension host can with 60 tabe microphone. Max. 1 host support to 250pcs table mic. )
Brand New - Original Packaging
Authorized Dealer - Warranty By Manufacturer of MICWL Audio Inc.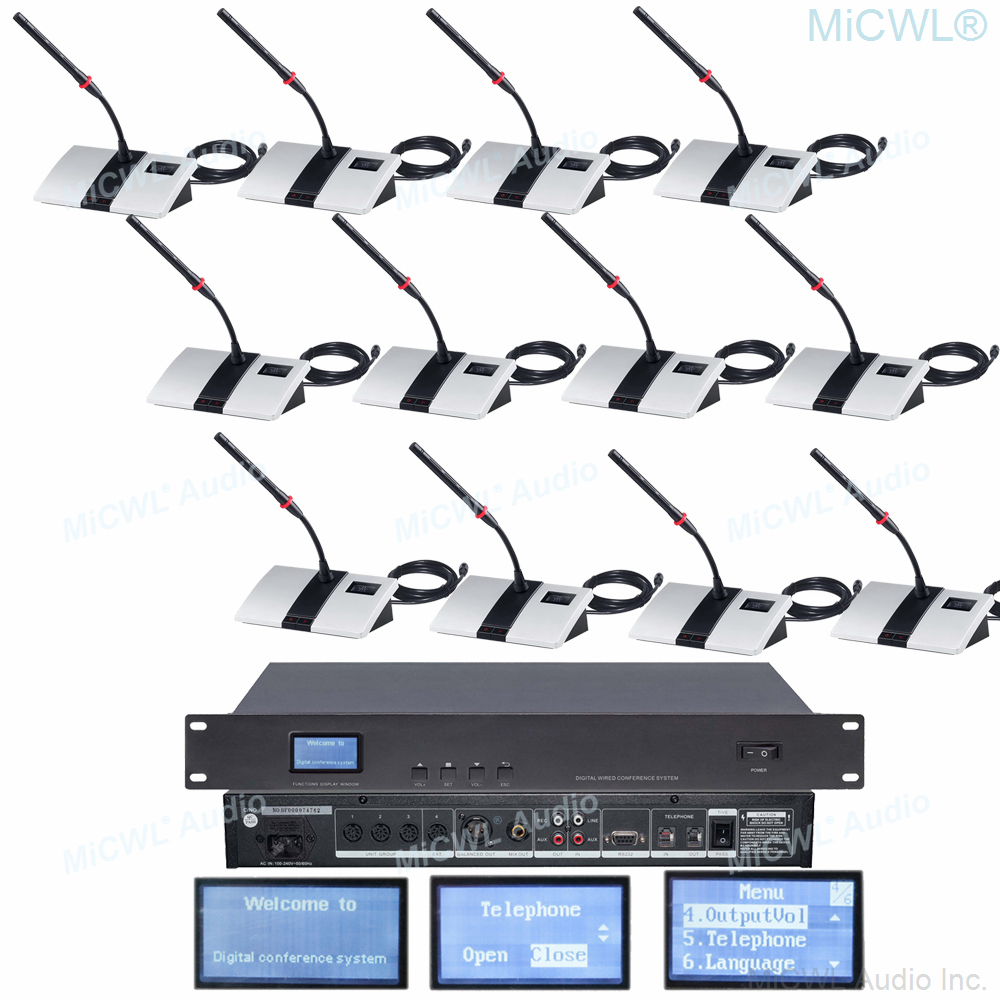 A351M Series Digital Conference System Product Description:
Convenient, hand-held conference system A351M series, without a central processor. A351M host is the core of the entire system. The system can accommodate up to 60 speakers, and the external PA system can be used for voice amplification. It has microphone auto-off function (microphone open, no sound input for more than 40 seconds, auto close). 2 meters long 8-P262 DIN connection cable, there is an auxiliary audio signal output and recording output, easy to connect other devices.


System Features:

1.The panel adopts buttons to control speaking mode and the number of speakers, breaking the traditional dial control.
2.LCD screen displays working status
3.The number of speakers: 1, 2,3,4,5,6 and full opening
4.7 meeting work modes: ①chairman mode ②first in first out mode ③last in first out mode ④LIMIT mode ⑤FREE mode ⑥responder mode ⑦Apply speaking mode (just for BLS-3505C/D unit)
5.The host can connect 60 microphone units, it divide into 4 parallel outputs, each channel can connect 20 units. It also able to connect expansion unit number of extended machine up to 5000 units by power extended machine (under 255 units) or data extended machine (above 255 units).
6.Equipped with audio parallel output and a 6.3 jack output, conference recording outputs and background music inputs interface.
7.Built-in telephone coupler input and output ports, and can be used for remote telephone conference. According to the principle of communication, it divide two-way telephone voice signals into inputs and outputs. In order to control the intercom setting of phone call and set aside between the hall.
9.RS232 interface can be achieved using computer software to control entire conference system function.


Model: A351M Digital Host

Frequency response: AC110V- 220V±10% 50Hz
Rated voltage: 100Hz-12.5Hz
Output impedance:
REC:200Ω LINE:200Ω
BALANCE: 300Ω
UNBALANCE: 400Ω
Input impedance: LINE:50KΩ PBIN:50KΩ
S /N Ratio: 100dB (1KHz THD1%)
Size:480*220*85mm


Weight:5.5KG
A3513 Desktop Model: Chairman unit and Delegate unit Microphone
1, intelligent digital design control circuit, low power consumption.
2, high-fidelity single-directional condenser microphone core, sound reduction, high definition, low noise;
3, the chairman unit has the right to speak, may at any time to close the other attendance unit.
4, the chairman unit has approved the representative of the key to speak, like the right to show the right.
5,128X64LCD LCD, display unit identity, speaking mode, speaking state, speaking time.
6, excellent anti-mobile phone interference.
7 the conference unit to support hot-swappable function, comes with 2.1 m 8P cable; hand-handle connection mode, easy installation, flexible operation
Polar pattern: one direction
Frequency response: 50Hz-1700Hz
Sensitivity: -45±2dB@1KHz
Input voltage: DC 9V(powered by host)
Output connector: 8P terminal
Input and output wire: 2.1M 8P shielded line
(1) 1x A351M Digital Wired Host,
(2) 18x A3513 Wired Desktop Gooseneck Microphones unit - 2 Chairman 16 Delegate Wireless Desktop Microphone or 18 unit Delegat Table Mic. )
(each table Microphones unit with 2.1m cable )
(3) 1x 1/4" plug Audio Cable,
(4) 1x AC-DC adapter ( 110V or 240V universal ),
Please contact us if you need this system more information or need other system accessories
(Mixer, Speaker, Sound Frequency shift etc ...